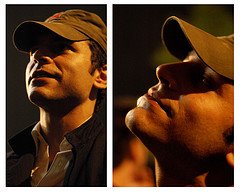 It seems that in the last weeks I've been having an incredible attitude to communicate with people.
I met many new persons. I met again some others I've been knowing since a bit. I kept meeting my friends. I've been writing or receiving letters from old ones.
All of them - each one in his own way - told me that I can communicate, that they love/need/appreciate my words. I feel grateful to these people. They just gave me what I was missing most.
Even if...it was not exactly this. But it works, anyhow.
I'm richer than two moths ago.
[thanks to
Honey B.
,
artemisia
,
Könrad
,
niko.chan
,
antje
,
La Santa
,
viju
,
valeriaYOU
,
Giona (e la balena)
,
raffolina
,
confusedvision
,
la gatta
,
amy
,
elise
,
benjamino
]